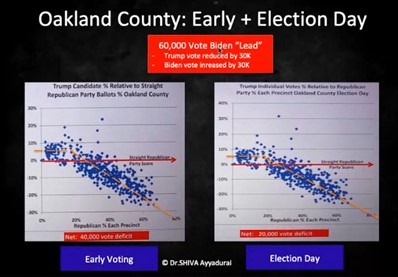 This article written by David Spring and submitted for online publication to Liberty Road was the topic of the November 14th, 2020 Saturday Morning Live program on KGMI / 790 AM radio.
I have been documenting Computer Vote Counting Fraud for many years. Computer Vote Counting fraud does not just involve Dominion. It is a major problem with all Private Closed Source Voting Programs. The solutions to this problem are to return to in person voting and require than all vote counting software be open source.
Michigan has three voting system vendors approved for the state, which are Dominion, Election Systems and Software, and Hart. All three companies have faced criticism over a lack of transparency and failure to open their proprietary systems to outside testing. In 2019, the AP found that these companies "had long skimped on security and operated under a shroud of financial and operational secrecy despite their critical role in elections."
This comment was submitted to Northwest Citizen by Ellen Baker, of Glacier, Washington, in response to their article. It is with her permission that we published her respone to the article on Liberty Road.
---
Northwest Citizen article link: Link

Ellen Baker, Glacier, Washington, Nov 01, 2020

I, for one, bristle at the suggestion that "individualism" is in itself toxic or a danger to the social fabric. The nature of homo sapiens is individualistic. Every human arrives unique, differing significantly from one's parents, sibs, and even from like minded peers. Differing brings depth to life, culture and civilization. So I see individuality and "individualism" as the norm, not an aberration.
Read more: The Struggle to Sustain Personal Identity in a Post COVID World
Extortion is the act of obtaining from a person, by force, intimidation, or undue or illegal power, something of value.
Peace, it is what we ALL want: Peace at home, Peace on the streets, Peace in the Middle East, Peace in the World. In a few short weeks, our radios will be filled with songs extolling, praying, crying for "Peace on Earth, Goodwill toward All Mankind."
Host Kris Halterman discusses the local, state, and national General Election issues with Charlie Crabtree, President of The Fourth Corner a local online/print news, Vince Buys, former 42nd State Representative and frequent guest host of SML, and Lorraine Newman, retired farmer and financial specialist and frequent guest on SML.
In 2016 I never would've dreamed that I would intentionally vote for Donald Trump, but I knew that I could not vote for and feared the loss of our nation under Hillary Clinton; the woman who famously said it takes a village to raise our children. "Not on my watch."
Over the past 4-years I watched, read, listened, and reasoned how a man who was a billionaire would put himself and his family through all of the Russia and Ukrainian and impeachment claims; just to name a few of the things 99% of us could not and would not put ourselves through.
I am a people watcher. I am fascinated by the art of "body language " and use my understanding of it to read whether people are being honest or deceitful. Watching President Trump over the past 4-years I have never, never seen him postured in anyway other than total openness and transparency.
Read more: Trump vs The Deep State, Big Media, the Cancel Culture, and the Socialist Democrat Machine
Back in the 1950's. Before many of us were born, a remnant of WWII still haunted the world. With the amount of European land given to Russia after the war, the Soviet Union threatened to become an economic and nuclear giant in our world. Many, both here and in Europe, flirted with the idea that communism could be as viable as capitalism and maybe even more efficient. They created the Communist Party, USA, a political party to advance their beliefs. There were others that warned communism could only work if the citizens gave up their individualism and personal rights to the state, and as usual when a threat is real or thought to be true, the people take notice.
Guest Host, Vince Buys will be doing a two-part interview with two important candidates for this upcoming General Election.
Part 1: Interview with Joshue "FREED" who is running as the "write-in" candidate for Washington State's Lt. Governor.
Part 2: Interview with (Chief) Loren Culp who is running as a candidate for Washington's Governor.
"The Best Defense is a Proactive Offense," What we can do to fortify our immune systems to mitigate CoV19 infection, authored by EJ Ledet
From research I've recently read, I believe the CoV19 virus maybe disabling our immune defense mechanism by blocking the body's zinc transporter molecules, ZIP9 proteins and/or IgG-3/C antibodies . The ZIP nomenclature was adopted from Zip Codes identifying different parts of the body .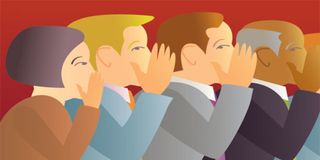 "Heard it from a friend who heard it from a friend who, heard it from another you've been messing around."
Gossip, we have all been caught up in its ugly web at sometime. That's why the beginning of this Reo-Speedwagon song is so catchy. It brings us back to our days in high school or a bad stereotype for women in the 60's.
Read more: Heard It from A Friend - Who Heard It from A Friend --
Did you notice what I did on the ballot?