Host Kris Halterman will interview three local community residents about the need for everyone to speakup, standup, and receive local support for: attending holiday gathering with family, keeping their small business open to help alleviate joblessness and homelessness 'and' save their family's livelihood.
---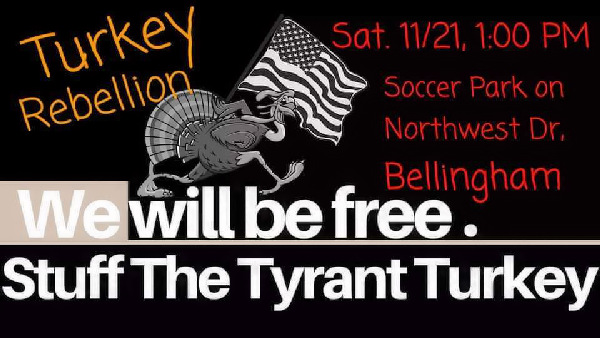 TURKEY REBELLION -->Come and Take it! 'Cause we aren't giving it up!
Join us, your neighbors, as we listen to members of our community speaking out against the unconstitutional mandates coming down upon us.

We proclaim that:
• We will exercise our rights as protected by the Constitution!
• We will have Thanksgiving!
• We will celebrate with our families!
• We will not be treated like slaves in our own homes while Inslee promotes riots in the streets!
We are responsible citizens and will make benefit/risk based decisions for ourselves as protected by the Constitution, (which we recommend Inslee read)!

ENOUGH IS ENOUGH!!
We aren't going to take it anymore!
Washington State DOH Interim COVID-19 Vaccination Plan -- Click this Link