This article written by David Spring and submitted for online publication to Liberty Road was the topic of the November 14th, 2020 Saturday Morning Live program on KGMI / 790 AM radio.
I have been documenting Computer Vote Counting Fraud for many years. Computer Vote Counting fraud does not just involve Dominion. It is a major problem with all Private Closed Source Voting Programs. The solutions to this problem are to return to in person voting and require than all vote counting software be open source.
Michigan has three voting system vendors approved for the state, which are Dominion, Election Systems and Software, and Hart. All three companies have faced criticism over a lack of transparency and failure to open their proprietary systems to outside testing. In 2019, the AP found that these companies "had long skimped on security and operated under a shroud of financial and operational secrecy despite their critical role in elections."
In December, 2019, a group of Democratic politicians sent a letter to the major election vendors asking them to disclose information including ownership, finances and research investments. Sen. Ron Wyden, D-Ore., a member of the Intelligence Committee and co-signer of the letter, said. "The voting machine lobby, led by the biggest company, ES&S, believes they are above the law. They have not had anybody hold them accountable even on the most basic matters."
Trump on Thursday accused Dominion of deleting 2.7 million votes for him across the United States (including nearly one million votes in Pennsylvania and hundreds of thousands in Michigan). Just a couple of days ago, Trump Attorney Rudy Giuliani stated: "Dominion election software can change the vote anyway they want."
Dominion, which has been used in multiple states where fraud has been alleged in the 2020 Election, was rejected twice in 2013 and 2019 by data experts from the Texas Secretary of State and Attorney General's Office for failing to meet basic security standards.
The examiners raised specific concerns about whether the system "was safe from fraudulent or unauthorized manipulation." They concluded that Dominion did not meet Texas Election Code certification standards.
The most common vote counting software in Washington state is Clear Vote. The following paper explains how to hack the Clear Vote Image system using a simple Windows driver: https://mbernhard.com/papers/unclearballot.pdf
Just do a search for Unclear Ballot to find the link. Here is a quote from this 18 page study: "We validate our attack against a corpus of over 180,000 ballot images from the 2018 election in Clackamas County, Oregon, and find that Unclear Ballot can move marks on 34% of the ballots while leaving no visible anomalies."
Michigan Computer Vote Counting Fraud Example
There is a video on YouTube by a PHD computer programmer named Dr. Shiva which breaks down the vote by Precinct in the four largest counties in Michigan (Oakland, Macomb, Kent, and Wayne Counties).
Here is a direct link to this video: https://www.youtube.com/watch?v=Ztu5Y5obWPk
You can also find the video by going to YouTube and typing Dr. Shiva Michigan into the search box.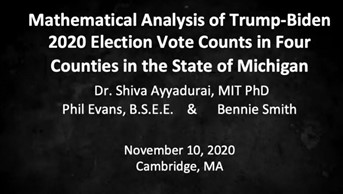 Michigan is one of 6 states in the US which allows a person to just check a box to vote for all the candidates from a single party. This is called Straight Party Voting. This feature allows us to compare the Straight Party votes in each precinct (aka Democrats and Republicans) with the votes of Independent Voters who did not check the Straight Party voting box.
Looking at this break down reveals several shocking facts.
#1 Most important is that in all four counties, Trump consistently won the votes of Independent Voters by a margin of 10 to 20%. This is much greater than the difference between Democrats and Republicans and means that Trump won Michigan by an exceptionally large margin.
#2 In three of the four counties (Oakland, Macomb and Kent), there was a consistent pattern of vote switching of more than 100,000 independent voters from Trump to Biden – done by a linear computer program.
The percent of Independent votes switched from Trump to Biden in each precinct increased as the percent of Republican Straight Party Votes increased in that precinct. There was no vote switching in precincts that had a high percent of Democratic Straight Party ballots. This made it appear that Independent Democrats in Democratic Precincts favored Trump while Independent Republicans in Republican precincts favored Biden. This is the exact opposite of what one would expect. Here is an example of this trend line: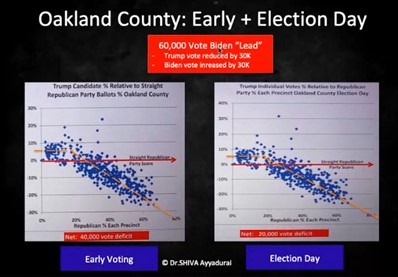 #3 In Wayne County, a completely different and more random pattern emerged: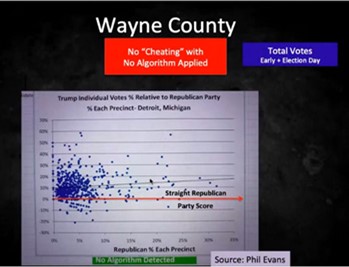 It is therefore highly likely that a linear computer program was used to alter hundreds of thousands of Independent ballot results in Michigan.
Conclusion
Regardless of who one supports for President, we should all oppose using vote counting programs to dramatically alter votes. The solutions to this problem are to return to in person voting and require than all vote counting software be open source.
Requiring that all vote counting software be open source would allow us to inspect the code to make sure that it is not possible for the program to alter the vote. It is also the only way to prevent hidden back doors to the voting programs.
Regards,
David Spring M. Ed.
springforschools (at) gmail dot com