by Doris Smith, October 31, 2022
In a recent meeting in Lynden, October 20, 2022, held for Washington Farm Bureau members who are also local flood-affected citizens, Sidhu said he knows that some people think he should call for emergency dredging of the river, but he says this is not possible and that he doesn't have the power to do it.
In response, an older farmer said there were two ways to deal with flooding: "water storage" and "dredging," and that as County Executive this is Sidhu's responsibility.
In reply to the farmer, Sidhu said dredging was not possible because the experts said so. He exclaimed he was not an expert and must defer to "experts." To back this up, Sidhu referred to an April 2022 conference in Whatcom County of 50 experts which had concluded that dredging was the wrong thing to do.
When combined with the official Whatcom County government-marketing piece titled "Executive Sidhu: County Remains Committed to Partnership in Cross-Border Flood Planning Efforts," one discovers what is really intended for Whatcom County residents and why County Executive Sidhu is against dredging. https://www.whatcomcounty.us/3881/Partnership-in-Cross-Border-Flood-Planni>
FEMA updating of the flood mapping:
"Whatcom County's current comprehensive flood plan adopted in 1999, recommended maintaining the existing flow and evaluating a host of measures to reduce future flood damages…We are now in the process of updating that plan, taking a fresh look at where flood waters go and how that is likely to be impacted by a changing climate."
"FEMA is currently in a multi-year process to update its flood maps for the Nooksack River" to replace the current maps from the 1970's. "The devastating floods of November 2021 were modeled in the new draft map created by FEMA."
Further in the post, buyout options are discussed as the principal solution "for people of Whatcom County who live in highest risk areas."
Between-the-lines translation:
"Maintaining the existing flow" means no water storage projects.
"In the host of measures to reduce flood damage" in the post, there is no discussion of dredging or sediment removal. That omission can only lead one to conclude that buyouts are Sidhu's main solution. How are the high-risk areas to be assessed for buyouts?
Nooksack River Existing 10 year and 100 year Flood Map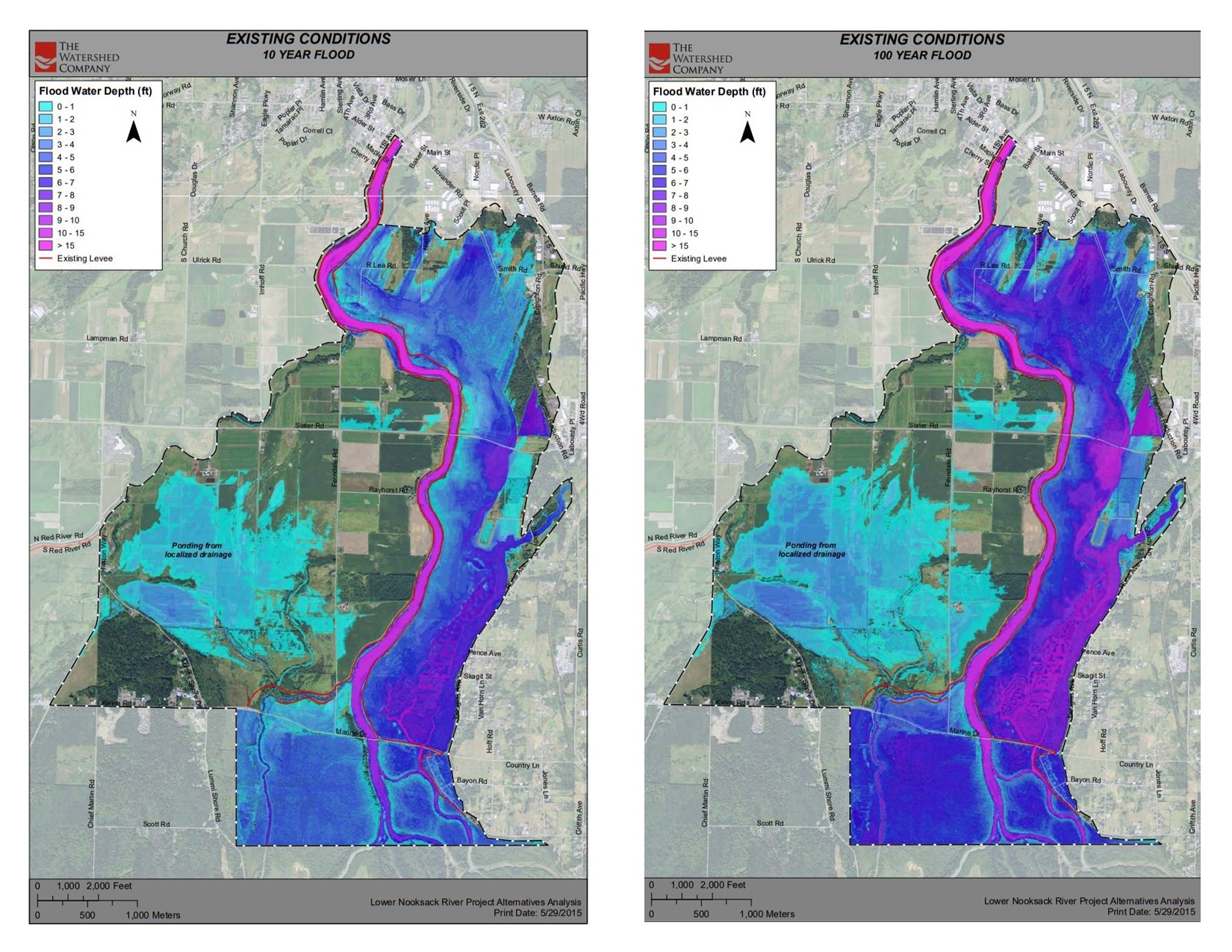 This is where the new FEMA flood maps of the Nooksack River are essential. The floodways on the maps will be far larger in area than on the current maps. That is because the Nooksack has not been dredged for decades, and since the 1970's, many log jams have been built for habitat which further increase the areas of flooding. These new maps will be used to dramatically increase the cost of flood insurance, determine the buyouts, and which areas will be cleared of residents. This is the land grab that is awaiting Whatcom County residents, once the new FEMA flood maps are published!
So, there it is: THE LAND GRAB FLOOD DANCE OF SATPAL SIDHU, the person who is "not an expert," except perhaps in land theft through the agency of preventing proper river management.
Given that Satpal Sidhu is up for re-election in November of 2023, the citizens of Whatcom County should consider his retirement from that position to be of great benefit to the County.